---
March 15, 2004
Bungholio is announcing the first game in a "Petting Zoo" series of games.
Game Info:
EMPIREHOST: sheepfarm.game-host.org
EMPIREPORT: 6665
Update Shedule: 1 Update / 12 hours (at 8am/8pm EST)
Registration Begins: Monday, March 15th, 2004
Registration Ends: 8pmFriday, March 19th, 2004
Game Opens: Saturday ?AM, March 20th, 2004
First Update: 8pm, Sunday March 21st, 2004.
Uniform Start Islands, each with plains "as protective beaches"
surrounding the majority of the coastline and 6 coastal wilderness
sectors for harbors. Start Islands have approx 35 wilderness
sectors with uniform resources.
Gold only in a few mountains, so banks will not be primary
sources of runaway cash.
Market is enabled, but the time to sell is equal to one-update
period to reduce "Market Abuses". Trade, however, has about
a one-half-update period to allow for Tech Toys to be traded.
Several expansion islands, some very close to each country's
start islands, some equi-distant to neighbors.
No food.
Rolling Avail.
Slow Tech, log base 10, all bleed (50%), slower than usual tech
decay. Start tech is Tech 80 with standard 4.2.13 units/planes/ships.
Game Duration: 25 updates (see win conditions).

Win Conditions:
At the end of 25 updates, there will be one winner defined by being
at the top of the power chart at the endpoint of the game and having
a minimum of 5% power "score" lead over the next player, if not,
then the game goes into sudden death overtime (for another
update.)
Once the Win Condition is met, the following additional credits are
to be given out at engame:
1) Highest Tech
2) Highest "Ships Score" (defined as each ship * ship eff * ship
build cost $)
3) Highest "Planes Score" (defined as each plane * plane eff * plane
build cost $)
4) Highest "Units Score" (defined as each land unit * unit eff * unit
build cost $)
5) Most Bars in "home bank", so in order to get this prize, one
needs to consolidate all bars in one's bank on one's start continent.
6) Possible others, TBD at this time.

Additional In-Game Stuff:
Prior to, and throughout the game, there will be 3 small prizes to
be won based on your abilities to create great lyrics to some lame
midi tracks. Judging will be done by Bungy. Links to the current
midi-track and recent winners are/will-be located on the game
webpage. Prizes are 10 bars for Best and 5 for runner(s) up.

Version:
Empire 4.2.13
(KSU distribution 1.04, Chainsaw version 4.00, Wolfpack
version 2.13)
The following parameters have been set for this game:
World size is 128 by 64.
There can be up to 99 countries.
By default, countries use their own coordinate system.
An Empire time unit is 720 seconds long.
Use the 'update' command to find out the time of the next update.
The current time is Mon Mar 15 19:54:49.
An update consists of 60 empire time units.
Each country is allowed to be logged in 1200 minutes a day.
It takes 8.33 civilians to produce a BTU in one time unit.
A non-aggi, 100 fertility sector can grow 0.12 food per etu.
1000 civilians will harvest 1.3 food per etu.
1000 civilians will give birth to 5.0 babies per etu.
1000 uncompensated workers will give birth to 2.5 babies.
In one time unit, 1000 people eat 0.5 units of food.
1000 babies eat 6.0 units of food becoming adults.
No food is needed!!
Banks pay $250.00 in interest per 1000 gold bars per etu.
1000 civilians generate $8.33, uncompensated workers $1.78 each time unit.
1000 active military cost $83.33, reserves cost $8.33.
Happiness p.e. requires 1 happy stroller per 10000 civ.
Education p.e. requires 1 class of graduates per 10000 civ.
Happiness is averaged over 48 time units.
Education is averaged over 192 time units.
The technology/research boost you get from the world is 50.00%.
Nation levels (tech etc.) decline 1% every 192 time units.
Tech Buildup is limited to logarithmic growth (base 10.00) after 1.00.
Sectors Ships Planes Units
Maximum mobility 127 127 127 127
Max mob gain per update 60 75 60 60
Max eff gain per update -- 100 100 100
Ships on autonavigation may use 6 cargo holds per ship.
The tax you pay on selling things on the trading block is 10.0%
The tax you pay on buying commodities on the market is 10.0%
Fire ranges are scaled by 1.00
Options enabled in this game:
ALL_BLEED, BRIDGETOWERS, DEMANDUPDATE, FALLOUT,
GODNEWS, GO_RENEW, INTERDICT_ATT, LANDSPIES,
LOANS, MARKET, NEUTRON, NEW_STARVE, NEW_WORK,
NEWPOWER, NO_PLAGUE, NOFOOD, NOMOBCOST,
NUKEFAILDETONATE, ORBIT, PINPOINTMISSILE,
PLANENAMES, ROLLOVER_AVAIL, SAIL, SHIPNAMES,
SHOWPLANE, TECH_POP, TREATIES, UPDATESCHED
Options disabled in this game:
BIG_CITY, BLITZ, DEFENSE_INFRA, DRNUKE, EASY_BRIDGES,
FUEL, GRAB_THINGS, HIDDEN, LOSE_CONTACT, MOB_ACCESS,
NO_FORT_FIRE, NO_HCMS, NO_LCMS, NO_OIL, NONUKES,
RES_POP, SHIP_DECAY, SLOW_WAR, SNEAK_ATTACK,
SUPER_BARS, TRADESHIPS,
"info Options" for a detailed list of options and descriptions
The person to annoy if something goes wrong is:
Windows Empire Server
(empire_bungholioNO@SPAMverizon.net).
You can get your own copy of the source using:
ftp://ftp.wolfpackempire.com/pub/empire/server or
http://www.wolfpackempire.com/

How To Play:
Send Email to: empire_bungholioNO@SPAMverizon.net
(remove NO & SPAM) with:
Country Name:
Password:
Email Address:
Confirmation Emails will be sent within 12 hours of receipt.
more game info, pics, and music can be found at the official
game webpage:
http://www.angelfire.com/empire2/bungholio/PettingZooIntro.html

Players may try logging in to the HOST and PORT, which may or may
not be up before the official start date, to verifify their connectivity.
Further interraction by players with the surver is discouraged before
the official start date, as the deity may be testing and confirming the
configuration.
This game is intented as a practice as a deity for myself, and as a "filler
game" until Retro-Empire begins and gets active by early April.
Disclaimer: INFORMATION CONTAINED HERE IS SUBJECT
TO CHANGE PRIOR TO THE START OF THE GAME. IT IS
THE PLAYER'S RESPONSIBILITY TO VERIFY THE ACTUAL
GAME'S SETTINGS. DEITY IS MAKING A BEST EFFORT TO
RELAY INTENDED GAME CONFIGURATION, AND DOES
NOT PLAN ON MAKING ANY MAJOR DEVIATIONS TO
THESE PUBLISHED PARAMETERS, BUT SOME MINOR
CHANGES WILL LIKELY RESULT TO ADJUST FOR PLAYER
BASE, ETC.
Hope to see you on the golden meadows,
Bungholio

No mid-game updates

The game ended after 18 updates, with Doorbell the winner.
Doorbell scored an early sack at the 10th update on harmless,
who was focussing on tech and growth and did not expect an
early invasion uponst himself this early into the game. With harmless
knocked off of his start island, and Doorbell allied with Gormania,
Mith decided his fate was sealed and conceeded the win to Doorbell.
Congrats to Doorbell for his brilliance in going for the early checkmate.

Blue coloring on countries in the power chart indicates the winners of the game.

    - = [   Empire Power Report   ] = -
       as of Mon Mar 29 20:05:00 2004


           sects  eff civ  mil  shell gun pet  iron dust oil  pln ship unit money   POWER


   Doorbell 169   91%  93K 1.9K 2.0K 117  5.0K  20K 182  6.5K  41   40   30 4.4K  3144.56


 Mithrilien 117   99% 103K 3.3K 1.9K 268  5.2K  11K  76  7.9K  15   85   31 6.8K  3023.54
   Gormania 102   95%  64K 1.9K 2.2K 305  4.4K  11K  84  1.5K  53   34   30 3.3K  2331.98
   harmless  24   83%  16K 821  350   92    0  6.4K   0   95    0   11    0 365   538.67
            ---- ---- ---- ---- ---- ---- ---- ---- ---- ---- ---- ---- ----
  worldwide 410   94% 275K 7.9K 6.5K 780   15K  48K 350   16K 110  170   90 15K

Blue coloring on countries in the report indicates the winners of the game.

Mon Mar 29 20:05:09 2004


#      name             tech      research   education   happiness capital


1     Doorbell         101.46       0.00        10.89        0.00    18,8


2     harmless          96.36       0.00         4.00        3.01   -20,-4
3     Gormania         102.92       0.00        12.43        5.46    -9,-15
4     Mithrilien        98.90       0.00        12.55        0.00    42,-14


Yellow = harmless Pink = Doorbell Brown = Mithrilien Orange = Gormania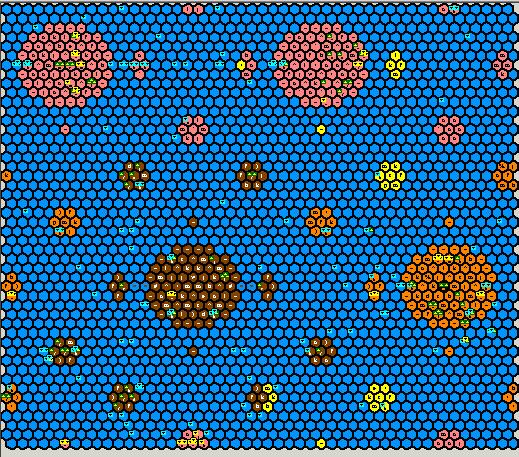 Ships Score: Mithrilien
Planes Score: Doorbell
Units Score: Gormania
Most Bars in Home Bank: Gormania
Tech Leader: Gormania

> Announcement from Mapper, (#11)  dated Fri Mar 19 23:32:31 2004
The game is built and up.  Logins are enabled.  Scheduled updates are disabled, but if
you all want to get this party started, zdone's are enabled (4 out of 4 required to do em).
Enjoy!
Bungy


> Announcement from harmless, (#2)  dated Fri Mar 19 23:37:27 2004
Slackers.

> Announcement from Bungholio, (#0)  dated Sat Mar 20 08:45:30 2004
Some Game Notes:

1) The power report does not show the latest time for when
the last "power new" was executed.  I have given everyone
extra max BTU's to compensate you.

2) All mountains should have 50 UWs in them, to help
get dust started, this was supposed to help the newbie
players.

3) All players should start with their entire start island
already explored and with 1 civ in all non-sanc sectors.

4) Resources are flat throughout the map for each sector
type.

5) Visitor account has tech 80, so visitor can see what
tech toys are available.

6) Tech growth is pretty slow.  This game is based on
WW2 era stuff.  Also with slow tech growth, it was
set this way so that newbies don't get crushed from
falling way behind in tech and having bad CM PE's.

7) Update window is 60 seconds long.  Updates are scheduled
for 8a/8p daily starting sunday evening (assuming everyone
breaks)

8) Deity is NOT playing in this game, just to clarify
incase there was any confusion.

> Announcement from Bungholio, (#0)  dated Sat Mar 20 08:46:22 2004
More info to come as I think of relative stuff.
Bungy


> Announcement from Bungholio, (#0)  dated Sat Mar 20 12:35:35 2004
Small Note to Players:  The deity has changed country #1's name
to a new one of his choosing because his submitted entry exceeded
19 characters and was truncated.


> Announcement from Doorbell, (#1)  dated Sat Mar 20 15:02:03 2004
Who ever is the last one to break,
please note that 3 of us have zdone'd yes.
would be so kind to break today and zdone.
Ding

> Announcement from Doorbell, (#1)  dated Sat Mar 20 18:59:05 2004
I feel like a 1-minute jepoardy song is
playing over and over and over again.

> Announcement from Gormania, (#3)  dated Sat Mar 20 21:58:39 2004
Hey guys, sorry for the delay. I had a slight connectivity issue then some
family things to deal with. I'll try to get stuff set up before tomorrow (Sunday)
afternoon. If all goes well, maybe we can even get a zdone in before the first scheduled one

> Announcement from Doorbell, (#1)  dated Sun Mar 21 03:46:57 2004
It's 2:45 am CST.
The bars are closed.
My wife is snoring.
The sheep are quiet.
And there has been no F_#)($%ing
update.

Sometimes life sucks.

But I still have beer.
Cheers to Mr. Ed.
who respects a good warm
beer at 3am.

Ding

> Announcement from Doorbell, (#1)  dated Sun Mar 21 03:50:15 2004
Oh one last thing.
I know that unless
you guys screwed up also.
I will be in last place after the
update.
Nothing like putting 87 civs in the
mountains when 87 uw's are cool
but 77 civs is proper.
= 50*1.30 = 65 dead civs ala
haste in lieu of thought.
Compounded bi-daily at a rate of
30%.  Feels like I just loan sharked
myself.



> Announcement from Bungholio, (#0)  dated Sun Mar 21 08:12:02 2004
Now that all four players have broken, updates are thus now enabled.
Remember to get your song lyric submissions in by prior to the first
scheduled update.  Submit submissions via email empire_bungholio@verizon.net
or by telegram tele 0.  The current midi track can be found at
http://www.angelfire.com/empire2/bungholio/PettingZoo_pregame.html

Happy Shagging,
Bungy


> Announcement from Bungholio, (#0)  dated Sun Mar 21 09:48:16 2004
Additional Notice of Clarification to Players.
Subject: Number of updates.
I just wanted to clarify the game conditions, for number of updates.
My reference to the number 25 corresponds to actual updates that
occur, both demand and scheduled, each type counting as one (1) update.
In the unfortunate event that an update gets skipped, then that
update did not occur, and thus does not get counted.
Regards,
Sheep Legal Office of Bungholio (S.L.O.B.)


> Announcement from Mithrilien, (#4)  dated Sun Mar 21 12:59:16 2004
Sorry to disappoint all of you, but due to a dinner party
that I will be attending tonight, I will be (a) missing
the update and (b) not doing a 'zdone y' for this country.
Thus, no unplanned updates between now and the first update.

In other news...
Mithrilien Defense Industries is now accepting bids for
a new weapon, the Laser Guided Slingshot.

Rumor has it Bungy is accepting bids for laser guided stirrups.

> Announcement from Doorbell, (#1)  dated Sun Mar 21 19:02:17 2004
too bad about Mith.  If he was not wineing and dineing
we would/could've had this update and maybe another in 30 minutes.
Now 8 eight hours.  RLD's :(

> Announcement from harmless, (#2)  dated Sun Mar 21 19:06:09 2004
   Bake-offs are always fun.  Especially when you're the baker.
One less blitz world to worry about.

> Announcement from Doorbell, (#1)  dated Sun Mar 21 20:29:14 2004
and my plan procedes...

> Announcement from Bungholio, (#0)  dated Sun Mar 21 22:21:52 2004
I am pleased to award the first prize for the lyrics contest to
player #2, harmless, who wrote the best lyrics for the .midi song.
The winning entry subission will be on my webpage within a day for
all to admire :)


> Announcement from Bungholio, (#0)  dated Sun Mar 21 22:40:14 2004
Notice to Players:  On Monday evening, approx 24 hours from now, I need
to do minor server maintenance and shut down the server for 5-10 minutes
while I install a 500VA UPS for the server, DSL modem, and 10/100 switch.
Also, this should be good for the windows 2k box to have its semi-
monthly power cycle done at this time as well.  So if you have encoded
the numerical IP address in your EMPIREHOST setting, you will need to
re-update those numbers to the new ones when sheepfarm.game-host.org
comes back online tomorrow after the maintenance is completed.
Have a good evening,
Bungy


> Announcement from Doorbell, (#1)  dated Mon Mar 22 10:02:50 2004
think, think think.
an 61% harbor that you have saved avail in to
be used as a warehouse during the first update.
But were going to roll it over to the next.  One needs to
stop the bastard or else it uses the avail to finish building!
:)

> Announcement from Doorbell, (#1)  dated Mon Mar 22 10:03:22 2004
an my plans to build that light carrier just evaporated!
:)

> Announcement from Mithrilien, (#4)  dated Mon Mar 22 10:04:32 2004
Seeing as how nobody is tech 80 anymore, your light carrier
plans evaporated before having to think about it ;)

> Announcement from harmless, (#2)  dated Mon Mar 22 10:06:20 2004
   It's a whole different sort of micromanagement. Easier, less
to calculate, but you still get an advantage.

> Announcement from Mithrilien, (#4)  dated Mon Mar 22 10:07:23 2004
Discarded piece of paper found on the floor of the Mithrilien Telex office:
  "New from Gormania Enterprises! Laser Guided Stirrups!
  Now, you'll be able to ride your sheep in the comfort
  of your new Laser Guided Stirrups, free from worry of
  being bucked off your favorite sheep-du-jour. Come on,
  come all, and get in on our special introductory offer!
    - Gormania Enterprises, putting the 'mania' back in
      sheep riding"

> Announcement from Doorbell, (#1)  dated Mon Mar 22 10:08:09 2004
mith, the light carrier
that was the joke part.
:o

> Announcement from Doorbell, (#1)  dated Mon Mar 22 10:08:41 2004
hey gormania you here? cuz I am almost ready for an update!

> Announcement from harmless, (#2)  dated Mon Mar 22 10:09:52 2004
Don't we have anything better do do (or worse, work)?

> Announcement from Mithrilien, (#4)  dated Mon Mar 22 10:09:57 2004
Ok, zdone y :)

> Announcement from Mithrilien, (#4)  dated Mon Mar 22 10:10:25 2004
"..anything better do do"

Hmm. Freudian slip, Drake?

> Announcement from Doorbell, (#1)  dated Mon Mar 22 10:20:41 2004
ok zdone.

> Announcement from Mithrilien, (#4)  dated Mon Mar 22 10:25:42 2004

[329:583] : zdone c
You want an update.
3 of a total of 4 lunatics want an update.

Ok, who's the non-lunatic around here? Gormania? :)

> Announcement from harmless, (#2)  dated Mon Mar 22 10:26:44 2004
   If a country is sacked, can the number required be dropped to 3?

> Announcement from Doorbell, (#1)  dated Mon Mar 22 10:27:00 2004
I will be back at lunch aka 11ish.  hopefully
we have had an update but after lunch I will have to pull
zdone around 4 as then I must pick up kids from school for about 3 hours
of driving and extrcurricullers.

> Announcement from Doorbell, (#1)  dated Mon Mar 22 10:29:37 2004
only makes sense.

> Announcement from Mithrilien, (#4)  dated Mon Mar 22 11:50:02 2004
Shocking evidence was discovered today of deity malfeasance
on the sheep farm. Photographic evidence was leaked to the
press today showing the shocking outcome of sentient sheep
forced to be sex slaves to our deity. Image appended:

                 __  _
             .-.'  `; `-._  __  _
            (_,  Help   .-:'  `; `-._
          ,'o"( Rescue (_,  Bungy    )
         (__,-'   us!,'o"(   used     ))
            (       (__,-'    me!     )
             `-'._.--._(             )
                !!!  !!!`-'._.--._.-'
                           !!!  !!!


Save the sheep! Save yourselves! Declare war 0 now!

> Announcement from harmless, (#2)  dated Mon Mar 22 15:19:52 2004
   Anyone still interested in an early update?  I can re-enable on
a few minutes warning (just one move to make).

> Announcement from Mithrilien, (#4)  dated Mon Mar 22 15:28:46 2004
I don't think Gormania has shown up, so I think it's a moot point.

> Announcement from Gormania, (#3)  dated Mon Mar 22 15:31:03 2004
sorry about the lack of "z y". I'll try to do better this evening.

> Announcement from visitor, (#10)  dated Mon Mar 22 16:55:30 2004
what's with all these sheep references?

> Announcement from Doorbell, (#1)  dated Mon Mar 22 16:56:10 2004
bummer gormania shows up but I can't be hear at the update :(
but I can/will be hear about 2 hours after it!
9-10 CST
here/hear whatever.

> Announcement from Bungholio, (#0)  dated Mon Mar 22 18:31:40 2004
Wow you guys have been a chatty bunch today!

In response to the changing of the zdone to setting it to
3 if someone gets sacked question, the answer is "no".
Just sacking someone is not good enough for me. But, I'd have no
problem setting it to 3 once one player is totally removed of
all sectors and old-owned sectors, ie: no chance of a come back.

In response to Mith's tatooing of my sheeps:  Dude! this is
the petting zoo game... the piercing and bodyart game is still
in the planning stages.

In response to visitor, this is the Intro to the Petting Zoo game,
and sheep are an integral part of empire.  See the game webpage
for more details.

 :) Bungy


> Announcement from Bungholio, (#0)  dated Mon Mar 22 18:59:23 2004
The winning lyrics to the first midi challenge can be found at:
http://www.angelfire.com/empire2/bungholio/PettingZoo_pregame.html


> Announcement from Gormania, (#3)  dated Mon Mar 22 20:50:50 2004
Oil on the market in case you need some...

> Announcement from Gormania, (#3)  dated Mon Mar 22 20:55:50 2004
Try this: decap yourself, then set "zdone y". It seemed to work for me. I guess
the deity might want to do something to disable an ex-player should he see the need
to reduce the zdone count to 3.

> Announcement from Doorbell, (#1)  dated Mon Mar 22 23:19:39 2004
anyone here?
cuz time to take my exploration to the test.
:)

> Announcement from Bungholio, (#0)  dated Mon Mar 22 23:36:29 2004
It appears that the server upgrade went successfully here, but the
dyndns service is slow to propagate to some areas of the web, even
now 45 minutes after restarted the emproxy client is unable to
resolve the sheepfarm IP.  If anyone cannot log in, send me an email,
but if you can't log in it would be tough to read this, huh?  I sent
all players email with the #.#.#.# ip address, which seems to work with
the emproxy client at least.
Bungy


> Announcement from Bungholio, (#0)  dated Tue Mar 23 08:19:11 2004
The second Midi Lyrics challenge song contest is now underway,
the track and default lyrics can be found at:
http://www.angelfire.com/empire2/bungholio/PettingZoo_update5song.html
Please get your submissions into me either via tele or email by
8:00pm (EST) today.
Happy Shagging,
Bungy

PS: Reminder, first prize = 10 bars, Runners up gets 5 bars.


> Announcement from Gormania, (#3)  dated Tue Mar 23 08:40:20 2004
In case anyone is interested, I should have enough BTUs for an
update around lunchtime (in 4 or 5 hours) if all goes as planned.

> Announcement from Mithrilien, (#4)  dated Tue Mar 23 10:18:41 2004
I'm interested.

> Announcement from Doorbell, (#1)  dated Tue Mar 23 10:33:45 2004
with a massive fleet of specialty Tugboats
all with the name Gnat1, Doorbellian construction
workers are establishing the fact that bungolian troups
die quickly.  As expected. But newspaper reports of
Mithrillian and harmless troops massacred at the hands of bungholes
makes even the lowest apprentice to the threshold carvers wonder,
is harmless really harmless? is Mithrillian really just an anagram of
Lillian Smith?

And does she appear on any carpentery or tool shop calendars?
Ding

> Announcement from Doorbell, (#1)  dated Tue Mar 23 10:42:23 2004
Don't you think in a n0_food game the fricking winace AND the server
ought to surpress the food column output?  Just dump should give it.
Cuz it is ANNOYing to see 1000 wasted food in a sector.
Hey bungy... do me a favor and vaporize my food.

> Announcement from Doorbell, (#1)  dated Tue Mar 23 11:28:10 2004
                   __  _
               .-.'  `; `-._  __ _        ()
              (_,         .-:'  `; `-._  ()
            ,'o"(        (_,           )/@@
           (__,-'      ,'o"(            )  @
              (       (__,-'            )   @
               `-'._.--._(             )    @
                  !!!  !!!`-'._.--._.-'    @@@
                             !!!  !!!     @@@@@



> Announcement from Mithrilien, (#4)  dated Tue Mar 23 11:28:56 2004
I  _TOLD_  you the sheep were being abused! See what happens?
Now they can't hold themselves. Bungy's rogering even the male ones.

> Announcement from Mithrilien, (#4)  dated Tue Mar 23 11:34:17 2004
   _______________
  /    Bungy      \            __  _
  |     Has       |       .-:'  `; `-._
  |    Fleas!     |      (_,           )
  \_______________/    ,'o"(            ))
                  \   (__,-'            )
                   \__/  (             )
                          `-'._.--._.-'
                             !!!  !!!


> Announcement from Mithrilien, (#4)  dated Tue Mar 23 11:35:04 2004
Boy, getting a zdone update around here is like hearding cats.

> Announcement from Doorbell, (#1)  dated Tue Mar 23 12:02:54 2004
Doorbellian engineers decided to
estimate the power report and confirm this
unpredidented difficulty with power positioning.
ALbeit killing 87 civs right off was a real morale
booster but craftsmen of Doorbellian stature can
handle adversity.

After having run the numbers the engineers were puzzled.
watching each updates iron production and assuming
100% consumption to cm's and assuming 100%
conversion to ship/edu/tech.

Doorbellian engineers have concluded that
normalized power scores of
170, 172, 165 and 163 are estmated with harmless
in the lead.

Percentages over the leader were estimated at
harmless  100%
Mith      98.8%
Gorm      96%
Door      94.1%

The difference is easily in the estimated ship percentages.
And estimated tech levels. hmmm...


> Announcement from Doorbell, (#1)  dated Tue Mar 23 12:05:48 2004
AHH... doorbellian engineers FAILED to do a backwards analysis of edu
costs AND that appears significant enough to interchange harmless and mith.
as Mith has lower education level and hence just as in the REAL world
a better power score!  :)  Stupid makes power.
:)

> Announcement from Doorbell, (#1)  dated Tue Mar 23 12:08:59 2004
oo oo oo
ship sighted off coast!
excitement builds as workers off shore watch a passing ship!
will they see us?  Why does it move so...fast...?

> Announcement from Mithrilien, (#4)  dated Tue Mar 23 12:49:16 2004
Come on people, let's get a zdone in!

> Announcement from Gormania, (#3)  dated Tue Mar 23 13:12:22 2004
Sorry to dissaspoint (again) but I don't think I can do a zdone yet. BTUs
are still way too low. Another 4 hours should do it though.
Plus I'm trying to do this from http://www.canopus.nl/empire.servlets/servlet/emproxy#prompt and its
no fun.

> Announcement from Mithrilien, (#4)  dated Tue Mar 23 13:24:59 2004
Can't you get a regular client?

> Announcement from Mithrilien, (#4)  dated Tue Mar 23 15:31:36 2004
Dammit I want an update :)

> Announcement from Doorbell, (#1)  dated Tue Mar 23 16:19:00 2004
Gorm need 200 buts
However, since Bungy is the only
ram in that sheep farm...

ready to bend over Gorm?

> Announcement from Doorbell, (#1)  dated Tue Mar 23 16:23:16 2004
Actually god should jus give gorm 200 btus
we have an update.
and then put take 200 away.
cuz, its just like using the BORROWED_BTU option.
oh, we don't have that option.

which makes me think of two options I think would be cool.
allow us to set our taxation where ever we want to.
result of high taxation VICIOUS CHE, quick MORALE failure and
work percentage drops...

low taxation, very happy troops, very high moral, production bonuses
and work bonuses.

average taxation like edu over last 196.

Also there should be an automatic diety loan provision that
if you go negative by less than $100,  you get the auto deity loan at 25%
but you are NOT broke.  Have 2 update to pay back.

lastly, I should just shut up.
Fucking a' not one god damn zdone....
bored minds wander.
sheep are looking good.

> Announcement from harmless, (#2)  dated Tue Mar 23 16:25:08 2004
 OK. there's three of us here who want an update.  Why are there
only "2 of a total of 4 lunatics want an update."

> Announcement from Mithrilien, (#4)  dated Tue Mar 23 16:27:04 2004

[100:640] Command: zdone c
You want an update.
2 of a total of 4 lunatics want an update.

[100:640] Command :

Hmm, what to do, what to do. Aha! I got it!

[100:640] Command : bye
Bye-bye
Exit: so long...
Server EOF
unix ~/empire> empire
Country name? Bungholio
Your name? ilikerogeringsheep
        -=O=-

[23:656] Command : force 1
Waiting 1 seconds...
Scheduling update now

[23:656] Command :

Tada! Update! :)

> Announcement from Doorbell, (#1)  dated Tue Mar 23 16:28:21 2004
cuz, most of the time, I blather on and don't check minor details
but NOW 3 of us do.
still gorm aint around.

> Announcement from Mithrilien, (#4)  dated Tue Mar 23 16:28:40 2004

[100:640] Command : zdone c
You want an update.
3 of a total of 4 lunatics want an update.


Ok, it's all Gormania's fault again :) Pig pile on Gormania!

> Announcement from Doorbell, (#1)  dated Tue Mar 23 16:30:36 2004
you know, empire is an addiction...we all have it.
ever see the friends episode when Janice tells Chandler:
"You push me away, and then you call me back
like a foghorn,  JANICE! JANICE!

You push me away,
you call me back.

You love me, Chandler Bing
You just don't know it.
"

seems one could change the words and describe our own
relationship to empire.

> Announcement from Doorbell, (#1)  dated Tue Mar 23 16:31:29 2004
anyone have any idea who(m) Gorm is?

> Announcement from Mithrilien, (#4)  dated Tue Mar 23 16:32:40 2004

I think I found a picture of him...

                      MMMMMMM           MMMMMMH
                HMMMMM:::::::.MMMMMMMMMM:::::.TMM
              MMMI:::::::::::::::::::MMH::::::::TM
            MMIi::::::::::::.:::::::::::::::::::::MMMM
           MT::::.::::::::::::::::::::::::::::::.::=T.IMMM
         MMMi:::::::::::::::::::::::::::::::::::::::::::MT)MM
     MMMI.:::::::::::::::::::::::::::::::::::::::::::.:::M= MM
   XMXi::::::::::::::::::::::.:::::::::::::::::::::::::::::::=MM
   MMi::::::::::::::::::::::::::::::::::::::::::::::::::.::..:=MMM
  MM:MMT:::::::::.:::::::::::::::::.:::::::::::::::::::::::::::MiMM
   MMM::::::::::::::::::.::::::::::::::::::::::::::.::::::::::.TM.MM
   MMi::::::::::::::.::::::::::::::::::::::::::::::::::::::.:::.:: M
   MM:::.::::::::::::::::::::::::::::::::.:.:::::::::::::::::::::: XM
 MM:MT::.::::::::::::::::::::::::::::::::::::::::::::::::::::::::::XM
IMM:::.::::::::::::::::::::::::::::::::::: :::::::::::::::::::::::.=M
 MM::::::::::::::::::::::::::::::::::::::::::::::::::::::::::::: :::M
 XMT:::::::::::::::::::::: ::::::::::::::::: : ::::::::::::::::::: iM
   MiMi:::::::::: :::::::::::::::::::::::::::::::: ::::::::::::::.:IM
     M::::::HH::::::::::::::::::::::::::::::::::::::::::::::::::::: M
     MT:::::iM::::::::Hi:iXH:::ii::XH:::::::::::::.::::::::::::::.:.M
      MX:::::iMX:i::::iMi:iMH::XH::Mi:::::::::::::::::::::::::::::: M
        Mii::::HMH:::::iMH::MH=:MM=TMi::::::::::::::::::::::::::::::MM
          MMMMMMMMMMMXTi:MMHi:HMMIMMMMii::::::::::::::::::::::::::::XM
           XXOXMMT:. ::T= :IMMMMMMM=iXMii:::::::::::::::::::::::::: MM
            MMMH:::.:::::::.::::.::::.:XMi::::::::::::::::::::::::::MM
           XMM::.:.:..::..:.:.::.:.::: ::XMi::::::::::::::::::::::::MX
          XMMT::::.:.::.::::.::.::::::::.::XH:::::::::::::::::::::: M
          HMX::...:..::..:.:.::::::..... :::XX::::::::::::::.:::::. M
          MM:::....:::::.::::::..:::::.:..:::HX::::::::::::::::::::=M
          MX::::::::::::::::::::::..::::.:..::X::::::::::::::::::::IM
         XMI..  .:.::....:..::::.:: ::...::.:.MH:::::::::::::::::.: M
         MM:. ::..::....::.::::::....:.:...:..MT::.   ::::::::: :..IM
         MM=:::::.::.:::::..::::.: .::..::..::Mi:::::::::::::::::: MM
         MMI:::...:  .::..::::::.:::::::.::::TM:::::::::::::::::::=MO
          MH.: .::::.::.. .:::::iLMXX=::::.:.Mi::::::: ::::::::::.MM
          MX:.:..:: .:.:.:.: :MMM:::..:::::.HM:::: :::::::::::::.MM
          MM:::...::....: ::IMT:::.:...:.::.MT::::::: ::::::::: MM
           M=::..::::..:::MM:i:..::.:...: ::M:::: ::: ::::::::::MI
           MH::: :.:.: MMMM=:::.:.:...:....iM::: ::::::  ::::::LM
          MMMMT.::. ::TM:::::..::::::::.::.IM::::HH:::::::::::.MO
           MM:LM::T:MT.:: .......:....:.:: TMMiXMT.MH:::.::::.:M=
            M:. :::MMi:::MMMM=::::::.::..::=MMMMMMXMH:::.:::::MM
           XMI: :..::=MX  :M::.......:...:::.MXTHM MH:::.: :.XM
           MM XMMI IM    M   ................:: :MIIM:::::::MMO
            MMXXMILM  .ML.= :.:::....:.:..::.:..:::MMT:::::TMM
              MXMLMMMT::.:...:........ ....::.:.=.MMMM:::::MM
              MHM=:: :.:::...::::.:...:.....:: =MMM==Mi::::M
              MM=:::.......:.:.::.:.::...:.: ::  . ::=M:: MM
             MMi:=XMMMi::::...:::::.::.:::::::::..: ::Mi:=MT
            MM=:I::  :iMH==:::::.::.:::::::::::::::.::MT:XMT
           MT=:=MMMMMMM=HM::::.::::::MMT=Mi::::::..:::MI=MM
          M ::::::.=I= .MX:..: ::::.::MX::::.:::.:.  .XMMM
         M:MMMMMMM=.::::  ::.::...:.MMIM::.:::.::..::::M
                 M=:: : ::::.==XMMM:XMMM=:::.::.:.::::.M
                 M=.IMMM )X   M  MMMMMM=:::..::..:::.::M
                 MM  X  MMM:MMMMMMMMM=:::.:.:.. .:.::::M
                  MIMMMMMMMMMMMMMMI::::::::.:::.:...:.:M
                MMMMMMMMMMMMMX:.   .:..::....:...:::.:iM
               MMMMMMMMMMI::::::.:.::...:....:.....:.:=M
           MMMMMMMMMI:::::.:.. :.::.::..........:..:..:M
            M=:  :..::..::.........::.......::.:.....: M
             MMMi::::::.:.:==MMMMMMMMMT:.:.:::..:::..: OM
               MM=::..: OMMMM         MMMT:::....:.::: :M
                M=::::MM                MMI:::........:OM
                 MMMMM                   MMH:::..::MMMMMM
                                          MMMMMMMMMMMMMMM

> Announcement from Doorbell, (#1)  dated Tue Mar 23 16:33:44 2004
amazing bungy aint on. . .
abby normal that is.

> Announcement from Doorbell, (#1)  dated Tue Mar 23 16:34:54 2004
hey mith, why sooooo many mil. Not good for the old
budget and pop growth figures.

Must have world domination plans.


> Announcement from Mithrilien, (#4)  dated Tue Mar 23 16:38:56 2004
                      ,---,,,_
                     (         ))
                    (            )
                    (            )
                    (_(_((((     )
                     (    , \    )
      Do you have    |   /   )   )
      bmap * for     |\ /    (   )
      my bunghole?   (.(.)    S  )
                \     /_       \ )
                 \   /__)   ^   \/
                  \_  /____/    |
                     )______    |
                            \   |
                          __-\__|-__
                         (          )
                         |_|METALL|_|
                         | |      | |


> Announcement from Mithrilien, (#4)  dated Tue Mar 23 16:39:58 2004
hehehehehe heheheh heheheheh he said 'growth' hehehehe hehehehee hehehe

> Announcement from Doorbell, (#1)  dated Tue Mar 23 16:40:37 2004
Gormania:
dated Tue Mar 23 13:12:22 2004
"I should have enough BTUs
...
in 4 or 5 hours"
Which means 17:00-18:00
server time.

Opps came on too early.


> Announcement from Doorbell, (#1)  dated Tue Mar 23 16:41:56 2004
That was fun.

> Announcement from Doorbell, (#1)  dated Tue Mar 23 16:42:29 2004
fuck...
see you all in 1 hour.

> Announcement from harmless, (#2)  dated Tue Mar 23 16:44:53 2004
   I go to do a couple minutes of work and I get spammed by Doorbell and Mith.

> Announcement from Bungholio, (#0)  dated Tue Mar 23 17:19:33 2004
You have 38 new announcements waiting...
Incredible!  All kinds of nice ascii poop, beavis's, and fun stuff.
Too bad you guys aren't drinking too :)
Bungy

> Announcement from Mithrilien, (#4)  dated Tue Mar 23 17:20:39 2004
Who says we're not?

> Announcement from Doorbell, (#1)  dated Tue Mar 23 17:51:46 2004
ok now it is 4-5 hours later, still no Gorm
that's it.
I've had it.
I'm pissed.
I'm peeved.
I'm seeming never at a loss for words
but I still want a f)(&_)ing update!

> Announcement from Mithrilien, (#4)  dated Tue Mar 23 18:09:42 2004
And now two of you have undone zdone. Sigh.

> Announcement from Doorbell, (#1)  dated Tue Mar 23 18:36:33 2004
I can't be back until update now.
so once more no zdone.
PERHAPS we all will be here at update?
,

> Announcement from Gormania, (#3)  dated Tue Mar 23 18:40:12 2004
Ok, I'm ready to set my zdone now :) Seriously, maybe we can get a 2nd one in after the update...

> Announcement from Mithrilien, (#4)  dated Tue Mar 23 18:46:54 2004
Tonight's dinner being served at the Mithrilien capital:
  - Bugles
  - Sun chips
  - Toasted Pop-Tarts
  - Act II microwave popcorn
  - Sprite

> Announcement from Doorbell, (#1)  dated Tue Mar 23 19:56:38 2004
ewee....

I just made, shrimp in primavera white sauce with
crushed fried garlic and peppers on the side.
Linguine, with tomatos bruschetto's
Stuffed mushrooms, with chopped chives, endive, and jerusalem artichoke
with a Napa Vally Merlot ( I know it is red!) and
creme de'menthe ice cream with chocolate sauce.

I am ON VACATION!!!!
:)

> Announcement from Mithrilien, (#4)  dated Tue Mar 23 19:57:43 2004
This server's time is 2 minutes and 35 seconds fast.

> Announcement from Mithrilien, (#4)  dated Tue Mar 23 20:29:15 2004
zdone Zdone ZDONE! :)

Come on you peeps! :)

> Announcement from Doorbell, (#1)  dated Tue Mar 23 20:31:19 2004
harm is here! yeah. and he is bummed he missed the update.
but I will be done in second.
GORM???

> Announcement from Gormania, (#3)  dated Tue Mar 23 20:37:21 2004
I'm really REALLY sorry about this folks, but I've got to away to build
up some BTUs (again). Then I promis we can have a zdone. My cap is much more
efficient now, so I think we can do it this time. I hope. - Gorm (more like Gorn :)

> Announcement from Doorbell, (#1)  dated Tue Mar 23 20:39:44 2004
ACHAKKKKKKKKK!@!KK!K!KK!!K!K!K!

> Announcement from Bungholio, (#0)  dated Tue Mar 23 23:43:19 2004
Bungy is hereby announcing the winner of the second Midi Lyrics
Challenge, as Mithrilleum, for submitting the best lyrics.
There are no runners up, due to lack of entries.  Mithy will
be receiving his 10 bars now.


> Announcement from Bungholio, (#0)  dated Tue Mar 23 23:49:35 2004
Doorbell, that sounds like an awesome recipe.  Perhaps tomorrow
you guys can share with the group, and we'll do "recipe club"
and have a bake off.


> Announcement from Gormania, (#3)  dated Wed Mar 24 00:25:44 2004
If there's anyone else on, we could try for a zdone in a bit. I'm just about ready.

> Announcement from Gormania, (#3)  dated Wed Mar 24 01:17:18 2004
SInce I've been promising to help with zdone all week, I thought I'd set mine. I'll
leave it that way for about 5 hours. That should still give me time for the update in about 7
is you guys want to go for it.

> Announcement from Doorbell, (#1)  dated Wed Mar 24 08:08:32 2004
now Gorm Was going to be on.
But right now I have to get my kids to school, wil
be back in 2 hours. then most of the day. I can check in.

> Announcement from Gormania, (#3)  dated Wed Mar 24 09:11:34 2004
My "zdone y" is now set, will check in later.

> Announcement from Mithrilien, (#4)  dated Wed Mar 24 09:40:31 2004

[198:642] Command : zdone c
You want an update.
3 of a total of 4 lunatics want an update.


Ok, which one of you isn't zdone'ing :)

> Announcement from harmless, (#2)  dated Wed Mar 24 09:43:06 2004
   This is the one Trinity, I can feel it.

> Announcement from Doorbell, (#1)  dated Wed Mar 24 12:04:49 2004
well one finnally fired!
and harmless jumps in the lead.

> Announcement from Mithrilien, (#4)  dated Wed Mar 24 12:16:26 2004
All Hail the Might Harmless! Holder of the Yellow Jersey :)

> Announcement from Doorbell, (#1)  dated Wed Mar 24 12:47:33 2004
I have zdoned again as has mith Me believes.


> Announcement from harmless, (#2)  dated Wed Mar 24 12:59:35 2004
   Awe shucks.  I'm only small and harmless.

> Announcement from Doorbell, (#1)  dated Wed Mar 24 13:06:23 2004
what ever happened to those nice russian fishing trawlers that
had a spy/sonar/radar of range 8?

> Announcement from harmless, (#2)  dated Wed Mar 24 13:11:32 2004
   A fishing boat that could carry a (secret) radar unit or
aa unit would be nice.  And a sam/mi battery.  Of course,
a lot of innocent aquaculturists are going to get torpedoed
if that sort of boat is added back.

> Announcement from Doorbell, (#1)  dated Wed Mar 24 14:50:08 2004
and only I want an update, like an update withou
t immediate exploring will matter now!
come on folks, party on

> Announcement from Doorbell, (#1)  dated Wed Mar 24 14:56:12 2004
ahh... aren't units on ships secret anyway?
just may not actually be able to look or spy if I recall correctly.
One slight mod.  rad/aa/sam/missle launchers work on ships.
hell why not have the inf's be able to fight on the ship.
Doorbell infantry 118 fails at sea moral check mutinies...
on board military and infantry 119 kill the scurvy bastards.

> Announcement from harmless, (#2)  dated Wed Mar 24 14:58:27 2004
   And the armors.  I'd love to see tank brigades
battling for control of a carrier deck.

> Announcement from harmless, (#2)  dated Wed Mar 24 14:59:39 2004
   Have you zdoned this afternoon?

> Announcement from Mithrilien, (#4)  dated Wed Mar 24 15:25:30 2004
Ok:

[341:626] Command : zdone c
You (4) now want an update.
3 of a total of 4 lunatics want an update.


> Announcement from Doorbell, (#1)  dated Wed Mar 24 15:29:57 2004
Gorm?  here gorm...
here boy...
I guess he has a life.

> Announcement from Mithrilien, (#4)  dated Wed Mar 24 15:35:37 2004
Dr. Empire: So, tell me about your feelings.
Empire Patient: I feel so...out of touch.
Dr. Empire: Yes, and when do you feel like this?
Empire Patient: Well, most of the time really, but especially
  around updates. This whole business with zdone has made
  me feel very paranoid.
Dr. Empire: I see. And how do you feel about your mother's
  feelings about this?
Empire Patient: What does my mother have to do with it?

> Announcement from Doorbell, (#1)  dated Wed Mar 24 18:24:20 2004
How fricking interesting:

This game will be won, with all odds, by virtue
of the power report.
Define weight = (lcm + hcm)/10
Eff in %

Ships and Land: (unless a paranthesis is miss placed)
power pt. value:  Weight*eff*2

Planes: 4%*tech*eff

$/100

everything else basically equivalent to it
lcm value.  5pts = 50lcm = 25hcm = etc...
Assume we end at tech 150

Consider a simple plane:  worth $400. weight 1.5
power points cost to make > 4 + 1.5 = 5.5

you get back: .04*150*1=6 points

Netting you at most .5 power points IF 100%


A plane costing $1000 is a gauranteed loser.

Consider a land: worth $500, weight 1.5 > 1.5 pts
hence cost > 6.5 power points to make.

Netting: 1.5*2*1 = 3  (all lands are losers)

Ships:  consider a destroyer, weight 6, cost $600
costing exactly 15 power points to make.

netting you: 6*2*1 = 12  a -3 return.

Lastly: since shells, AND guns cost to make but
their power points are equal or less to their lcm/hcm cost

They are losers also.

Conclusion: to hold power, hold lcm's hcm's and cash,
everything else loses in power.

Hmm...


> Announcement from harmless, (#2)  dated Wed Mar 24 18:58:58 2004
   So Mith, with 15% more land (and therefore productive capacity
and tax base) is already the winner?   OTOH, whoever fights is
throwing away cms at a significant rate.

> Announcement from Bungholio, (#0)  dated Wed Mar 24 19:00:54 2004
Doorbell, excellent analysis, except, perhaps if players see that
you are making a bunch of worthless planes, then they should launch
a major ground and naval invasion uponst you...  so it's a tradeoff
of how much you can "appear" powerfull, vs, how much you can back
it up... get it yet?


> Announcement from Doorbell, (#1)  dated Wed Mar 24 19:32:24 2004
harmless has brought up a good point, which begs a question.
WHEN is the final power report taken?  Are we going to go right
up to update 26 and the update window triggers a POWER NEW
and then shuts down OR are you going to give us a time.
for the power report to happen?

Only Bungy knows for sure.

> Announcement from Doorbell, (#1)  dated Wed Mar 24 19:33:11 2004
Gorm you around?  we going to get a zdone tonight?
Ding

> Announcement from harmless, (#2)  dated Wed Mar 24 19:41:25 2004
   And the sudden death trigger might lead to a return of the
tech-feeder alliance.  Give up land and productive capacity to
keep the game alive long enough to get the missiles and nukes
necessary to reduce the cm stockpiles of certain countries.
At the end the three non-leaders have every incentive to unit to
keep the game alive.  This might not be the short game everyone
imagines.  Of course, computing the estimated power reports will
be challenging, an require a great deal of intel.

> Announcement from harmless, (#2)  dated Wed Mar 24 20:01:57 2004
   And harmless races Doorbell for the bottom of the power heap.

> Announcement from Mithrilien, (#4)  dated Wed Mar 24 20:03:22 2004
Oo! Flip flop...Gormania in 1st, and harmless drops to 3rd...

> Announcement from Doorbell, (#1)  dated Wed Mar 24 20:08:14 2004
how interesting...

> Announcement from Doorbell, (#1)  dated Wed Mar 24 20:48:57 2004
anyone going to zdone?  cuz I am about done.
would be nice

> Announcement from Mithrilien, (#4)  dated Wed Mar 24 20:49:55 2004
I could, but I suspect we're missing a couple.

> Announcement from harmless, (#2)  dated Wed Mar 24 20:51:17 2004
   Still at work - will be a little while before I can zdone.

> Announcement from Doorbell, (#1)  dated Wed Mar 24 20:53:00 2004
ok, I am going to grab a beer, a sandwich, a cd, and be back.
hopely gorm may have arrived.

> Announcement from Mithrilien, (#4)  dated Thu Mar 25 10:37:26 2004
Ok, come on you peeps...

ZDONE!

> Announcement from Mithrilien, (#4)  dated Thu Mar 25 10:41:13 2004
Boy, I tell ya...there's nothing like taking a swig of a
15 hour old warm coke.

<spew><hack><gag><choke>

> Announcement from Doorbell, (#1)  dated Thu Mar 25 10:53:04 2004
well, I went for a beer and the wife stole me...
sheetrock sucks.  Then this morning EVERY kid going to school
forgot something AND my wife forgot her car keys
so 2 hours of driving in the morning just to deliver kids to school
TWICE each and the wife once.  Some fun morning for vacation!

but now empire.
heheh

> Announcement from harmless, (#2)  dated Thu Mar 25 10:57:51 2004
[looks at the half-glass of warm tequilla leftover from last night]


It's going to be a long day at work today.  I'm going to need this.


Ahhh.  Just the thing.

> Announcement from Doorbell, (#1)  dated Thu Mar 25 11:04:19 2004
3 ideas i think that would NOT be hard to program that allows
us micromanagers more options.

nchange <land|ship|plane> #1 #2  {switches the two numbers}
limit <land|ship|plane> # int%  {limits growth to that % increase}
that way you can build 8 planes to 80% instead of 6 to 100%
and
actually limit would remove my need of nchange as
limit land #1 0  would get it skipped during improving its effeciency which
is my number one reason for nchange. (but not only)

and
transfer (pipe dream)  <land|ship|plane> #1 #2
take the effeciency of unit #1 * mobility * rate and gives it to
the unit #2 * its eff.  If in same sector.
No REAL LIFE reason for this.. just sometimes I want to do it!

transfer land 154 155
? Inf 154 (30%) has 50 mobility, 10 mobility transfer to Inf 155 (67%)

ramblings.

> Announcement from harmless, (#2)  dated Thu Mar 25 11:08:14 2004
   Or build only to 100%, and never repair units, they're fully
functional until they're damaged and destroyed.  No more hassles
deciding whether a unit is worth repairing or not.  You build them,
use them, and they die.
   Unit efficiencies are so not-RL anyway, it's not like we'd
be losing any realism.  *Mobility* is RL, just build them with
negative mobility so they stay in the HQ for basic or specialist
training.  Oh, and build the mil into them at construction time,
since so many things are specilist anyway, and not really interchangeable.

> Announcement from Mithrilien, (#4)  dated Thu Mar 25 17:05:17 2004
Any chance we can get another zdone out of this game?
I'd hate for the last update of the game to be on
a friggin' saturday morning :(

> Announcement from Bungholio, (#0)  dated Thu Mar 25 17:14:21 2004
A zdone is very possible.  Either that, or we could
all simulate a server crash... LOL!

> Announcement from Mithrilien, (#4)  dated Thu Mar 25 17:31:36 2004
I know how to crash the server :)

> Announcement from Mithrilien, (#4)  dated Thu Mar 25 17:32:19 2004
(and no, I'm not going to show you until this little loophole
is fixed in the .15 release of the code)

> Announcement from Bungholio, (#0)  dated Thu Mar 25 19:56:27 2004
OK, the 10th update MIDI Lyrics challenge is now ready for all
you guys to start thinking about.  The song/info can be found:
http://www.angelfire.com/empire2/bungholio/PettingZoo_update10song.html

and here is the results of the 5th-update contest, congrats all
around to Mithrillians, page is here:
http://www.angelfire.com/empire2/bungholio/PettingZoo_update5song.html


> Announcement from Bungholio, (#0)  dated Thu Mar 25 19:57:35 2004
oh, right, the 10th-Update contest submissions are due by
8am tomorrow morning.


> Announcement from Mithrilien, (#4)  dated Thu Mar 25 19:58:20 2004
Gosh, not like giving us too short warning or anything :)

> Announcement from Mithrilien, (#4)  dated Thu Mar 25 19:58:41 2004
(Oh, just for clarification, that's 8am Hawaii Time, right Bungy? :))

> Announcement from Bungholio, (#0)  dated Thu Mar 25 20:00:21 2004
I don't see what the problem is.. you guys have more than enough time
to ascii mod my flock, banter others about setting zdones, yet I *ask*
you to get something in by 8am, and the sky is falling.

> Announcement from Mithrilien, (#4)  dated Thu Mar 25 20:04:57 2004
Well, that's game over.

> Announcement from Doorbell, (#1)  dated Thu Mar 25 20:25:04 2004
The country of Doorbellian early tonight discover secret papers
saying that harmless was planning to win this game.
That was not to be allowed.

Shocked Doorbellian found strange shrines on many of the street of
harmless,  A hole in the wall, that people did disgusting things
to.  The civilians said it was their prayer ritual.  Over each was a Golden
sheep, with BH label proudly on it.

From the harmless capital of Armless

Ding

> Announcement from Doorbell, (#1)  dated Thu Mar 25 23:48:08 2004
people, retro is starting and I think I have skewed the game miserably.
doesn't even matter, If harmless survives this. It will allow Gorm and
I to push up on the power charts.
Shells gallore reduces population substatially.

Should we continue?  Gorm?

> Announcement from Gormania, (#3)  dated Fri Mar 26 06:30:39 2004
I'd like to congratulate Doorbell on a brillian move. I've been asked the question shall we
continue? It seems to me that the outcomes are pretty certain. An its been mentioned that
Retro is starting up. I'm inclined to give Doorbell the win, but if others would like to
play on, I'll still participate.
-Gorm

> Announcement from Doorbell, (#1)  dated Fri Mar 26 07:49:08 2004
GOODMORNING....sheep farm!

> Announcement from harmless, (#2)  dated Fri Mar 26 07:49:40 2004
   You wouldn't say that if it were 4:45AM.

> Announcement from Doorbell, (#1)  dated Fri Mar 26 07:57:27 2004
you're right.
Hey, sheepfarm it 4:45am  you slackers aren't up yet!
rise and shine, the sun is getting ready to rise and you're
sleeping!

> Announcement from Gormania, (#3)  dated Fri Mar 26 08:35:22 2004
Before we all sign off for good, I have one question. Have any of you figured out who I am?
I just gave Mith a bit of a hint (at least a way to eliminate several if he hand't alreadt)
But I'd really like to know...

> Announcement from Mithrilien, (#4)  dated Fri Mar 26 08:36:51 2004
No, I haven't figured it out :)

> Announcement from Doorbell, (#1)  dated Fri Mar 26 08:37:29 2004
Nope, I do not know.  Horgoth comes to mind with the
manner.

> Announcement from harmless, (#2)  dated Fri Mar 26 08:40:13 2004
   I'm guessing you aren't Jason, but other than that I have no idea.

> Announcement from Mithrilien, (#4)  dated Fri Mar 26 08:40:58 2004
U.S. of Madison?

> Announcement from Mithrilien, (#4)  dated Fri Mar 26 08:41:19 2004
Since we're all here, why don't we get our country management
done and do a zdone, eh? :)

> Announcement from Doorbell, (#1)  dated Fri Mar 26 08:43:36 2004
heheh I like the fact that you are NOT
jason.

> Announcement from Mithrilien, (#4)  dated Fri Mar 26 08:44:21 2004
Maybe we could make this a monty python skit..
I'm Jason.
Hello Jason (Doorbell), and how are you today Jason (harmless)?
Hey Jason! (Gormania) how's the new airforce?

> Announcement from Bungholio, (#0)  dated Fri Mar 26 08:44:38 2004
Not to spoil the tea party you all are having, but I just wanted
to announce the winners of the MIDI Lyrics Challenge.
There is no winner because there were no entries.  C'mon
guys, you could have submitted a ROT-13 version of the
lyrics and won.  I'm really disappointed.  Oh well.


> Announcement from harmless, (#2)  dated Fri Mar 26 08:44:46 2004
   Actually, I think I can rule out harmless, Mithrilien, Doorbell, and
hopefully Bungholio as well.

> Announcement from Mithrilien, (#4)  dated Fri Mar 26 08:45:00 2004
I'm Jason!

> Announcement from Mithrilien, (#4)  dated Fri Mar 26 08:45:33 2004
You made the contest too damn quick.
12 hours notice? I had Retro work to do :)

> Announcement from harmless, (#2)  dated Fri Mar 26 08:45:35 2004
   And where would I have put
the bars?

> Announcement from harmless, (#2)  dated Fri Mar 26 08:45:56 2004
   OK, you can be Jason.

> Announcement from Mithrilien, (#4)  dated Fri Mar 26 08:47:46 2004
Cool!
"Dammit! I can't made tonight's update! My wife won't
let me pay empire, my 8 kids have to go to soccer,
cub scouts, a slumber party, girl scouts and a ballerina
class. I'm 47 weeks behind in my med school studies,
and the 7 classes I'm teaching are all behind in my
grading of them. But not to worry! I'll make the next
update, I'll just have to lie to my wife about it!"

"Oh, one more thing. If anyone attacks me, I quit!"

> Announcement from Mithrilien, (#4)  dated Fri Mar 26 08:48:16 2004
(did I get it right? :))

> Announcement from Mithrilien, (#4)  dated Fri Mar 26 08:48:57 2004

"PS: I'm going to Disneyland in a couple of weeks. Anyone
   who send me their address, I'll send them a postcard
   from Mickey"

"PPS: Milwaukee sucks"

> Announcement from Gormania, (#3)  dated Fri Mar 26 08:54:06 2004
Yes, you can safely rule out the three of you, and the deity. Doorbell know me
from the last game he played in, Mith from rge and emails. Harmless, I don;t beleive
I had the pleasure. I'm the guy that deitied the last Havok game. I know what Mith means
it kind of sucks to work at it all the time and not get to actually play.
-Gorm (I might keep that name, it remindes me of West Virginia) aka Bob M

> Announcement from Mithrilien, (#4)  dated Fri Mar 26 08:54:41 2004
Bob! Woohoo :)

> Announcement from Doorbell, (#1)  dated Fri Mar 26 09:00:34 2004
Mr. March
bad image.
Mr. Bob
bad image.
Go with Gormania

> Announcement from Mithrilien, (#4)  dated Fri Mar 26 09:01:14 2004
How are those bad images?

> Announcement from harmless, (#2)  dated Fri Mar 26 09:01:26 2004
   You left out the deity cheating.

> Announcement from harmless, (#2)  dated Fri Mar 26 09:10:18 2004
   You'd think the micromanagement would be simpler, wouldn't you?

> Announcement from Bungholio, (#0)  dated Fri Mar 26 09:30:09 2004
Let's extend the Lyrics challenge another 24 hours then,
due to requests.  However, there will be no back interest
paid for the 2 update delay, consider this the "late fee"
penalty.  Submissions are now due Sat 8am EST.  Happy
Shagging.


> Announcement from Mithrilien, (#4)  dated Fri Mar 26 09:53:40 2004
COme on peeps...zdone y!

> Announcement from harmless, (#2)  dated Fri Mar 26 11:43:33 2004
   Best quote I've ever snagged from slashdot:


When the only tool you have is a shotgun, every problem starts to look for
the nearest exit.

> Announcement from Mithrilien, (#4)  dated Fri Mar 26 12:28:54 2004
*laugh*

> Announcement from visitor, (#10)  dated Fri Mar 26 13:53:45 2004
Good thing you guys didn't enact this rule:

? Announcement from harmless, (#2)  dated Mon Mar 22 10:26:44 2004
   If a country is sacked, can the number required be dropped to 3?


:)


> Announcement from Doorbell, (#1)  dated Fri Mar 26 17:11:04 2004
retro should be opening.
Mith, are you deiting or playing?

> Announcement from Mithrilien, (#4)  dated Fri Mar 26 18:21:20 2004
I am deitying. I should have thought that would have been
obvious by now :)

> Announcement from Doorbell, (#1)  dated Fri Mar 26 19:43:29 2004
cowa cowa Bung(holia)

> Announcement from harmless, (#2)  dated Sat Mar 27 05:07:03 2004
   Hell, I'm #2 for money.  So much for power optimization.
And a moment ago I was looking at scrapping all my ships
and hoping for some che to give me some extra tax base.

> Announcement from Bungholio, (#0)  dated Sat Mar 27 09:52:40 2004
The announcements file appears to be functioning again.
I restored the file from the 7:55am backup this morning.
Geoff, any ideas?


> Announcement from Doorbell, (#1)  dated Sat Mar 27 10:46:58 2004
harmless tried this flood the server with over size
anno packets, telegrams, declarations, offers etc...
he was trying to halt the spead of Doorbellian threshold workers
putting fine serberian thunderbush wood thresholds in each new
COUNTRY home of doorbellian tourists.  The destinct look, stripped red and
black, and fine hard texture make it a prized addition to anyhome.
Once there, doorbellian tourists know that that area is safe and
proper Doorbellian land.

But harmless efforts were for naught.
Ding

> Announcement from Bungholio, (#0)  dated Sat Mar 27 12:19:55 2004
The results of the 10th Update MIDI Lyrics Challenge are in.
Congrats to Mithrilien for the best entry.  And a good job
Runner-Up award goes to Doorbell for his submission.  The
entries can be found at:
www.angelfire.com/empire2/bungholio/PettingZoo_update10song.html


> Announcement from Doorbell, (#1)  dated Sat Mar 27 13:24:11 2004
hey bungie FIX the midi for update10 ok, cuz some idiot
may actually go out and buy a new sound card per your advice
but it is YOU who screwed up.

and your nachos look sick. And your sheep farm is weird....
and you have pictures of your spousal unit on your web page.

I associate with weirdoS1

I am at peace.
Well not really as harmless can attest.

I am at one with the buddha.
)that's because his pudgey body gives me good female images!(

Ding

> Announcement from Doorbell, (#1)  dated Sat Mar 27 19:59:34 2004
yee haw one more...

> Announcement from harmless, (#2)  dated Sat Mar 27 20:12:05 2004
Nevermind that minefield.  It's harmless.

> Announcement from Doorbell, (#1)  dated Sat Mar 27 20:17:19 2004
sheez... what a minefield took 22 shells I believe out of it...
that is a bunch.
the last nav though finally didn't sweep.
BUT does it miss some? Enquiring ship captains want to know.

> Announcement from Doorbell, (#1)  dated Sat Mar 27 20:18:45 2004
from harmless:
"Well, I'm done. zdone set.  Getting much easier now."

very nice man to smash.  No vile flames.

> Announcement from harmless, (#2)  dated Sat Mar 27 20:22:49 2004
   And Doorbell is evil.


Sat Mar 27 20:20  Doorbell firing squads massacre defenseless harmless workers


   Workers of the world unit and rise up against your oppressors.  You'll lose
your lives otherwise.

> Announcement from Doorbell, (#1)  dated Sat Mar 27 20:30:16 2004
ahh yes, if you had watched the power report differential
is was probably 1.5k civs I just shot.
Quickly and painlessly.

> Announcement from Doorbell, (#1)  dated Sat Mar 27 20:34:22 2004
now harmless WHY do you have all this dust laying around and NO bars
left.  hmppff.

> Announcement from harmless, (#2)  dated Sat Mar 27 20:41:54 2004
EMP protection.

> Announcement from Doorbell, (#1)  dated Sun Mar 28 06:57:39 2004
Goood morning Sheeeeep.

> Announcement from Bungholio, (#0)  dated Sun Mar 28 20:05:56 2004
Good to see lots of activity in the PettingZoo. I'm going to be
starting to formulate a RGE status post over the next day or
so, so if anyone has any interesting tidbids that you would like
mentioned, feel free to either telex me or post them in the
annos.  Have a good evening.
Bungy


> Announcement from harmless, (#2)  dated Mon Mar 29 00:14:06 2004
   Wasn't there a plan to announce what everyone was having for dinner?
Mine is a personal favorite: Rum & Coke. Specifically a 12-pack I was
overcharged for at Ralph's (what a lousy name for a supermarket)
and a 1.75l bottle of Baccardi Gold from Costco.  What are the rest of
you having for dinner?
   [contemplating engaging gas stove to cook up 5th degree burittto filling]

> Announcement from Gormania, (#3)  dated Mon Mar 29 07:04:42 2004
Buffalo Style Chicken Wings with all the trimmings was on the dinner menu in
Gormania last night.  You can find the recipe on the back of the "Franks Original
Louisiana Hot sauce" bottle. Serve with blue cheese dressing and celery and carrot
sticks. Beverage selections included water and Miller Light.

That reminds me, didn't UB used to be a hotbed of Empire activity in years past?

> Announcement from Doorbell, (#1)  dated Mon Mar 29 20:01:17 2004
yea haw.
Finally back on top.

> Announcement from Mithrilien, (#4)  dated Mon Mar 29 20:08:06 2004
Yes, UB used to be a hot bed of Empire. I was part of it.

> Announcement from Doorbell, (#1)  dated Mon Mar 29 20:14:09 2004
After a quick negotiation, a parlay with all enemies of
Doorbell alive at the moment!  Have agreed to an end to hostilities
via a final server shutdown.
Paperwork is being approved by GOD himself.

Thanks everyone, was fun.

> Announcement from Bungholio, (#0)  dated Mon Mar 29 22:16:11 2004
It is my understanding that everyone is in agreement that Doorbell
is the winner of this game.  I have disabled updates, so that final
tallies can be made and for game wrap up and discussion.
However, if anyone does not agree to the win by Doorbell, then
make an anno ASAP so that I can re-enable updates so that the
game continues.
Bungholio


> Announcement from Gormania, (#3)  dated Tue Mar 30 07:29:16 2004
I'd like to offer my congratulations to Doorbell on his quick and decisive victory.

I'd also like to say thanks to Mithrilien for putting up with my lame attempts
to attack him. He really had nothing to gain by battling me, a relative
novice. But I gained some valuable experience from it and appreciate the
patience he showed in the matter.

-Bob M